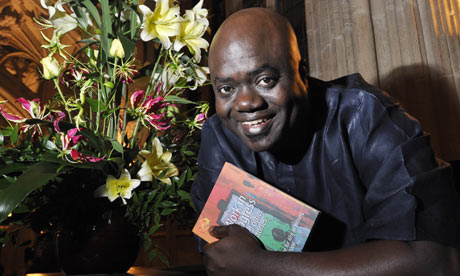 Annually an African short story writer receives the Caine Prize, which is a £10,000 award, founded in England in 2000 and is supported by Nobel Prize literature winners Wole Soyinka, Nahguib Mahfouz, Nadine Gordimer, J. M. Coetzee and a various organisations and funds. The name for the prize is a dedication to the former chairman of Booker plc, the Booker Prize management committee and Africa 95, Sir Michael Harris Caine. Ben Okri, a Nigerian writer and winner of the Booker Prize, chaired the first panel of Caine Prize judges. He is a wonderful writer, so if you do not know him yet, watch the interview with him (below) when he was in Denmark.
2009 made it its tenth anniversary of the Caine Prize, and the year in which E.C. Osondu could add another award to his collection. He has previously won the Allen and Nirelle Galso Prize for fiction, and his story "A Letter from Home" was judged one of the "Top Ten Stories on the Internet" in 2006.
"Waiting" is the title of Osondu's award-winning story, which take place among refugees. Read it on the link below.
Read the award-winning "Waiting" here
or in a pdf file
here
Visit the official website and check out the other winners and nominees
Must see Ben Okri interview in the Black Diamond, Copenhagen, Denmark!
Read other stories here